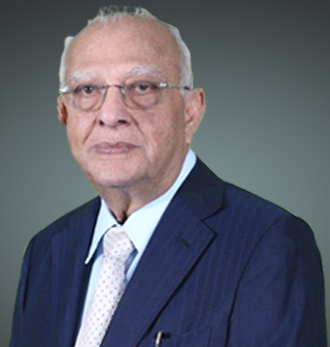 Popularly hailed as India's 'Crop Protection King', he believes in doing things differently to achieve great results.
Mr. Rajnikant Shroff
Born in a family of entrepreneurs in a small village in Kutch, India, passionate about chemistry and chemicals right from the beginning, Mr. Rajnikant Shroff, the CMD of UPL, pioneered Red Phosphorus manufacturing in 1969, giving an impetus to the indigenous chemical industry.
A committed visionary
Eager to do something different, Mr. Rajju Shroff has always taken the road less traveled. A graduate of Chemistry from the Bombay University, he established a novel process of manufacturing mercury salts in a plant at U.K. and was paid royalty for it by the British Company; a big achievement for any Indian way back in 1957. Soon after, he mastered red phosphorous and quickly moved on to the production of other chemicals like Aluminium Phosphide (fumigant) and Zinc Phosphide (rodenticide) for agriculture. In 1980s, UPL started launching an avalanche of crop protection products and is one of the leading total crop solutions providers in the world now.
Even today at the age of 82, Mr. Shroff's vision and commitment to ensure food security for all has him at work 10 hours a day
Motivated to make a real difference
Mr. Rajju Shroff believes that the prosperity of his company must be shared with not just the stakeholders but the society at large too. His wholehearted support encourages one and all at UPL to contribute to various social activities and actively work towards betterment of the people.
Looked up to by the world
His dedication to his company and his causes is unwavering. His many awards are a mere testimony of his legend. Some of them are:
AGROW Lifetime Achievement Award in September,2015 in London
UPL listed by the World CSR Congress as one of the top '50 Most Caring Companies Award 2014'
Ernst & Young Entrepreneur of the Year Award (manufacturing) in 2013
Rolta Corporate Award 2010
Indian Chemical Council's Lifetime Achievement Award for the entrepreneur in 2010
Lifetime Achievement Award by Chemexil in 2008
President's Gold Shield Award for indigenous development of technology in 1972.